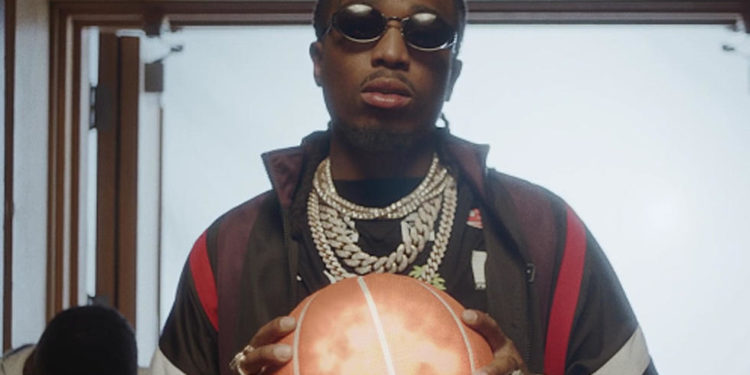 After teasing fans about the visual for the past couple days on social media, Quavo debuted his music video for "How Bout That?" today (Nov. 21).
In the Kid Studio and Quavo-directed music video, the Atlanta rapper takes inspiration from the Michael Jordan and Bugs Bunny-starring movie Space Jam. Quavo saves the day by giving his basketball team a sip of his "Quavo Secret Stuff." After drinking the mysterious drink and touching the magic-infused basketball, the team is ready to defeat the game ahead. There is also a hilarious scene of Quavo at a press conference following his victorious win. The visual ends with the team celebrating their win.
The song itself is one where Quavo flexes hard as he spits about his status in the rap game. "Aye, move the scene (Move)/Move the block (Block, ugh)/I'm with the team (Team)/We All-stars (Stars, aye)/This all I got (Got)/I can't stop (Stop)," Huncho raps on the OG Parker-produced song.
"How Bout That?" is the eighth song on Quavo's solo album, Quavo Huncho, which dropped on Oct. 11. The 19-track LP features guest appearances from 21 Savage, Drake, Saweetie, Madonna, Cardi B, Travis Scott and more. Two weeks its release, the album landed the No. 2 spot on the Billboard 200 chart.