A recent research conducted by South African publication Rapport has revealed that most musicians in the country get just under 10 per cent of the CD price.
×
Global trends have long proved that CD sales no longer bring in enough money and that artists should start to rely heavily on concerts and corporate gigs to make money.
While that may be true for lower-ranked musicians in South Africa, the Rapport's findings suggests that some prominent artists in the country are still making considerable revenues from CD sales. The publication shares a case study of Afrikaans singer and songwriter Theuns Jordaan who apparently made over R1.7 million (about $ 115 000) with his album Vreemde Stad.
According to Rapport, Jordaan received R8.33 (about $0,56 cents) from each of the 210 000 sold copies of his CD – which adds up to R1,749,300.
The biggest chunk of the R99 (about $6,74) price paid for a local music CD goes to the retailer, while the music label, printing costs, distribution, and VAT accounts for the rest of the money.
The graphic below shows where the money goes following the sale of a music CD.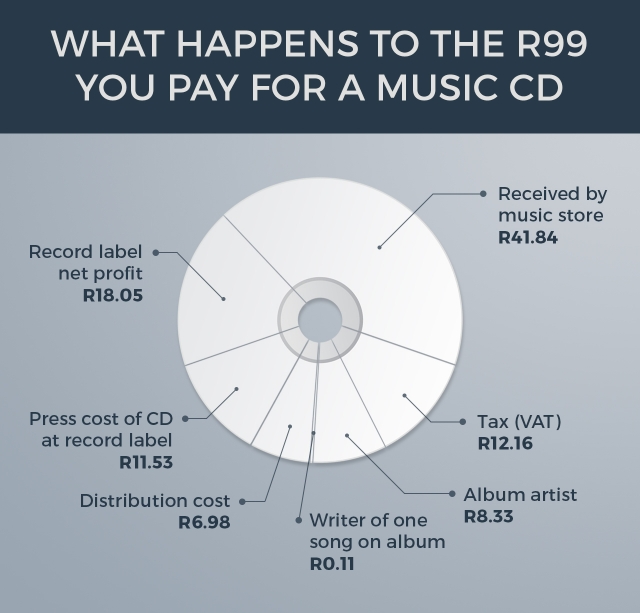 Rapidly declining cd sales in South Africa
Last year the Recording Industry of South Africa (Risa) reported that CD sales had declined significantly by at least 30 per cent annually since 2012.
This has motivated the company to decrease the number of copies artists need to sell to reach gold or platinum status.
Artists in South Africa now only need to sell 15 000 copies (down from 25 000) and 30 000 copies (down from 50 000 ) to attain gold status and platinum status respectively.
This article was originally published in MyBroadband